Schtuff and things...
My visual arts teacher looks a lot like Hugh Laurie. Which kind of just blows my mind because he makes the same facial expressions as House sometimes. But he's really nice. Nothing like House. Except he's the kind of person that's hung up on technicaities a lot so some people find it really difficult to follow his instructions. I find him down right hilarious though.
And apparently, tv shows (with real people actors not cartoons) only ever film your eyes two thirds of the way up in the screen. My art teacher told us this during class yesterday and I just thought it was really cool. I came home and watched Merlin and it's absolutely true. Odd. But true. Also makes sense if you think about it artistically. But we won't. Becuase I have learned from experience that non-art-enthusiasts don't like thinking about it artistically.
I drew some shoes over the weekend which turned out really well. Thought I'd post the picture. I was thinking of posting a new sketch once a week. It would give me a reason to draw other than...you know. It's kind of my main thing a school. Every Thursday maybe? Yes? No?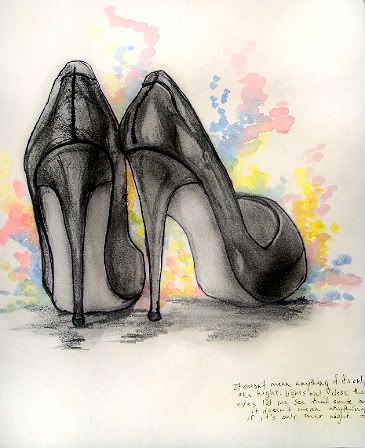 The writing on the bottom says:
"It doesn't mean anything if it's only one night;
Shut off the lights, close your eyes
Show me a smile
But it doesn't mean anything if it's only one night."
(sorry for the terrible quality picture)
I joined some clubs too...I am now a co-editor of the newspaper which is really a magazine. I also joined this leadership thing that my Civics teacher runs it's loads of fun. We play weird games and we also organize the battle of the bands that the school every year and lots of fundraisers. I am also auditioning to do the layouts for the yearbook comittee (because, yes, at my school you have to audition for yearbook as there is actually a huge interest in it). We'll see how that goes but I need to upload photoshop on the laptop first.
Uh...that's about it.
Love and gorgeous footwear,
Heliotrope.
So I started school last week and hasn't been that hard adjusting to the flip from summer laziness and work mode...granted I don't generally work that hard anyway. But yeah. It's been fun. For the most part, I really like all my teachers. They're a lot of fun and they teach really well too. Except for my science teacher. Don't get me wrong, she's a great lady and all, but I really don't feel like I'm absorbing any knowledge from her. I have no idea what's going on in the class. It's just a bunch of textbook work.